Wrap Your Retirement Into a Bundled Services Program
September 14, 2022
If you have multiple service providers for your retirement plan, you're likely dealing with a few of these issues: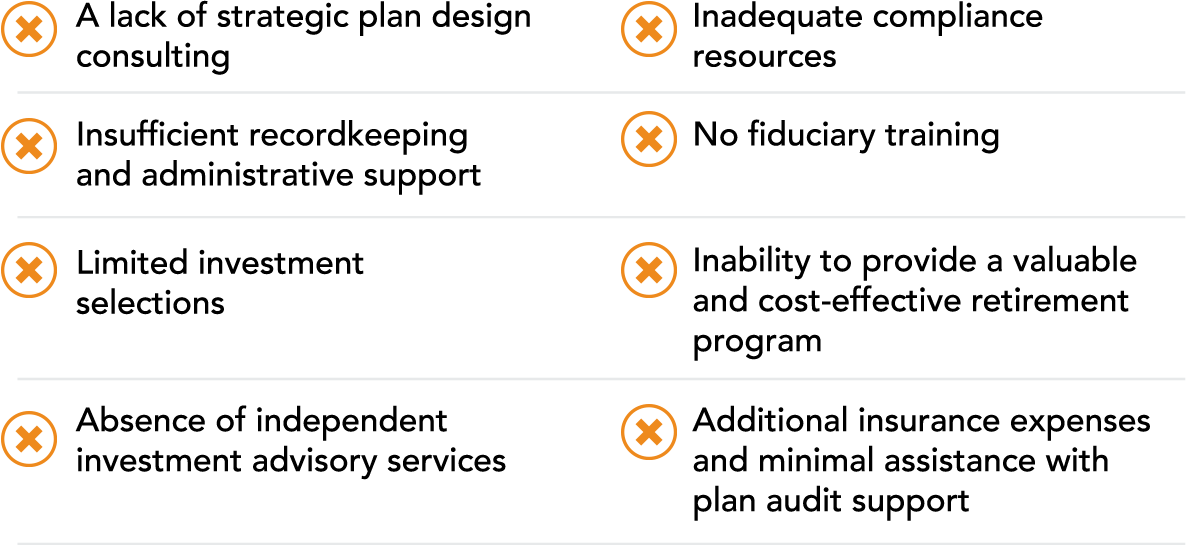 Fortunately, it doesn't have to be your normal situation.
One Provider, Fewer Issues
Consider moving to a bundled solution, where all the plan's essential services are performed by one provider. Consolidating retirement plan services with a single provider can save money, improve your peace of mind and increase accountability.
Retirement plans have become more technical with creative plan designs, diverse investment options and administrative strategies. Finding an effective and efficient service model can be a challenge for many employers, especially when plans are administered by multiple providers.
401(k), 403(b) and 457 plans administered by multiple providers often experience persistent processing errors and compliance issues due to the lack of provider accountability. If those errors and issues are revealed during an Internal Revenue Service (IRS) audit, the results may include plan disqualification, which could cause significant tax consequences to the employer and plan participants.
If you have multiple providers for your retirement plan, ask yourself these questions:

With a bundled solution, you have one point of contact for all plan services, and you may experience a lower cost because you're working with just one provider.
Achieve Your Organization's Goals with Direct Solutions
USI Consulting Group's (USICG's) Direct Solutions® bundled services program is mutual-fund-based, which eliminates additional insurance expenses and improves employees' abilities to meet their retirement goals. Through Direct Solutions, USICG is in a unique position to provide a fully integrated, cost-effective solution by serving as both your full-service recordkeeper and co-fiduciary advisor. Key features include:
Robust recordkeeping for tracking participant account balances and investments.
Accurate, comprehensive and responsive administrative services for tracking plan eligibility, contribution calculations, compliance testing, and Form 5500 preparation.
Independent approach to investment guidance1 to avoid conflicts of interests. We do not manage money and we do not create or distribute our own proprietary investment products. Our team is truly objective in selecting and monitoring the plan's investment options.
Plan design benchmarking with proprietary analytics to help optimize your retirement plan design features to meet your organization's objectives and boost recruiting and retention efforts.
Compliance resolution expertise to simplify complex compliance issues and mitigate risk.
Employee education, communications and resources, which are vital to increase participation, deferrals and plan engagement. We provide enrollment and investment education, interactive tools and account access to improve retirement readiness and overall financial wellness.
Proactive, client-centric service & support with a dedicated team of specialists who oversee the implementation of your plan and provide ongoing administration, consulting, education and compliance support following the transition.
When you partner with USICG's Direct Solutions, your experience also includes:
Single point of contact account manager, who serves as your personal advocate to coordinate all plan activities with your dedicated service team at USICG.
Commitment to protecting your data and critical information wherever and whenever they are created, stored, transmitted or processed.
Quarterly plan management reporting, along with access to online plan reporting tools.
Access to trustee and custodial services.
Compliance testing support, including annual review of plan documentation and ongoing review of changes in regulatory requirements.
Fiduciary training and consulting via our in-house team of experienced professionals, including ERISA attorneys.
Case Study: Bundled Solution Is a Winning Decision




Recently, an organization that sponsors multiple 401(k) plans administered by a variety of providers chose to consolidate services with USICG's Direct Solutions. The move proved advantageous for the company, as the bundled services improved reporting, compliance and transaction processing.

In addition, an enhanced communications campaign that featured web-based video and in-person meetings increased plan participation by 25%. By consolidating services with USICG, the organization reduced service costs by 30%.2
How USI Consulting Group Can Help
USICG's Direct Solutions bundled services program embodies three critical elements that are invaluable to employers:
Help employees save and invest for retirement
Provide a valuable and cost-effective benefit program
Help protect retirement plan managers and fiduciaries
To learn more about how we can help optimize your plan, drive financial wellness for your employees and influence the long-term financial success of your organization, contact your local USICG representative, visit our Contact Us page, or reach out to us directly at information@usicg.com.
1 Investment Advice provided to the Plan by USI Advisors, Inc. Under certain arrangements, securities offered to the Plan through USI Securities, Inc. Member FINRA/SIPC. Both USI Advisors, Inc. and USI Securities, Inc. are affiliates of USI Consulting Group.
2 Actual results will vary and are dependent upon various factors including, but not limited to: number of participants, total plan asset value, management fees, administrative costs and services provided.

This information is provided solely for educational purposes and is not to be construed as investment, legal or tax advice. Prior to acting on this information, we recommend that you seek independent advice specific to your situation from a qualified investment/legal/tax professional. | 1022.S0816.0048
Not receiving our Newsletter?
Stay up to date with retirement insights by subscribing to our email list.