Integrated team, proactive approach
Do you understand your pension plan's current financial situation and how that relates to your option to either maintain or terminate your plan?
USI Consulting Group (USICG) has decades of defined benefit (DB) and actuarial experience and is fully equipped to help organizations manage the additional complexity, responsibility and risk that come with offering a pension plan. Our integrated team includes actuaries, annuity consultants and investment advisors. Working together, we help employers better predict and manage pension plan costs and expenses while optimizing plan design, financial impact and employee appreciation.
Comprehensive guidance to help reduce negative impact on plan assets and liabilities
At USICG, we listen and provide individual attention to get a thorough understanding of your organization's goals. Our team will help you comprehend your plan's current financial situation, the cost that waiting to terminate has on the organization and the risks associated with continuing to maintain the plan. We are here to help ensure a manageable, predictable and affordable cost of your pension plan, or help guide you through terminating the plan. Below are some of our key services to help you address your unique pension plan situation.
Pension plan de-risking strategies
Transferring the risks associated with current and future pension liabilities to retirement plan participants or an insurance company ultimately reduces the plan's impact on the balance sheet, income statement and contributions required with funded status volatility, along with reducing PBGC premiums. Implementing an appropriate de-risking strategy, however, requires numerous considerations and decisions.
USICG's team of actuaries, annuity consultants and investment advisors work with clients to identify and evaluate the facts, objectives and considerations to ensure the appropriate de-risking strategies are implemented at the proper time. This level of financial coordination is not available through a siloed approach and this kind of proactive consulting by an integrated team can provide savings that exceed an individual de-risking strategy.
There is no standard best de-risking strategy, as each organization's ideal solution is based on preferences, budget, timeline and risk tolerance. In fact, USICG's experience indicates that retirement plan sponsors often select a combination of de-risking strategies designed by the actuary and investment consultant.
Recently, USI Consulting Group helped a client develop and implement a strategic plan to terminate a pension plan which held $113 million in pension liability.
We established a glide path for the plan and alerted the client when it appeared they were close to being able to terminate the plan. Our team estimated that they were fully funded on a plan termination basis according to current rates, but there could be up to a $5 million contribution needed, depending on the final annuity contract pricing.
The estimated contribution was within their budget and they proceeded with the plan termination. The client locked in their asset gains by moving to cash. In addition, rising interest rates removed the possibility of underfunding.
USICG's team also negotiated $1.1 million in savings on a $27 million annuity contract, resulting in the plan being $8 million overfunded when assets were distributed. We consulted with the client to craft a strategy to use those excess assets to fund a defined contribution plan.*
Successful plan termination starts with a structured approach
Your pension plan's improved funding status is now face-to-face with market volatility, geopolitical uncertainty and hints of a recession. If you've been contemplating de-risking your defined benefit pension plan, the time may be right to develop a successful pension risk transfer strategy.
Frozen pension plans can be risky, expensive and burdensome. And the plan termination process requires numerous steps. However, there are actions employers can take to better prepare for a plan termination. Exploring the plan's investment strategy, understanding the benefits of de-risking and developing a formal contribution policy are key to determining your pension plan's financial readiness for termination.


USICG's approach is designed to relieve employers of the expense, risk and fiduciary responsibility associated with maintaining a frozen pension plan, as quickly and efficiently as possible.

Educate – USICG's actuaries examine your pension plan's status and adeptly educate you on the available de-risking options.
Navigate – USICG's pension plan termination team helps employers navigate the glide path, compliance requirements and administrative complexities needed to terminate your plan. All filings and participant notices are executed by our team.
Terminate – USICG's annuity placement consultants guarantee that the safest insurer with the best value, in accordance with DOL IB-95-1, will be procured to administer the benefits of plan participants who do not elect lump sum distributions. With this final step, organizations can successfully terminate their pension plans.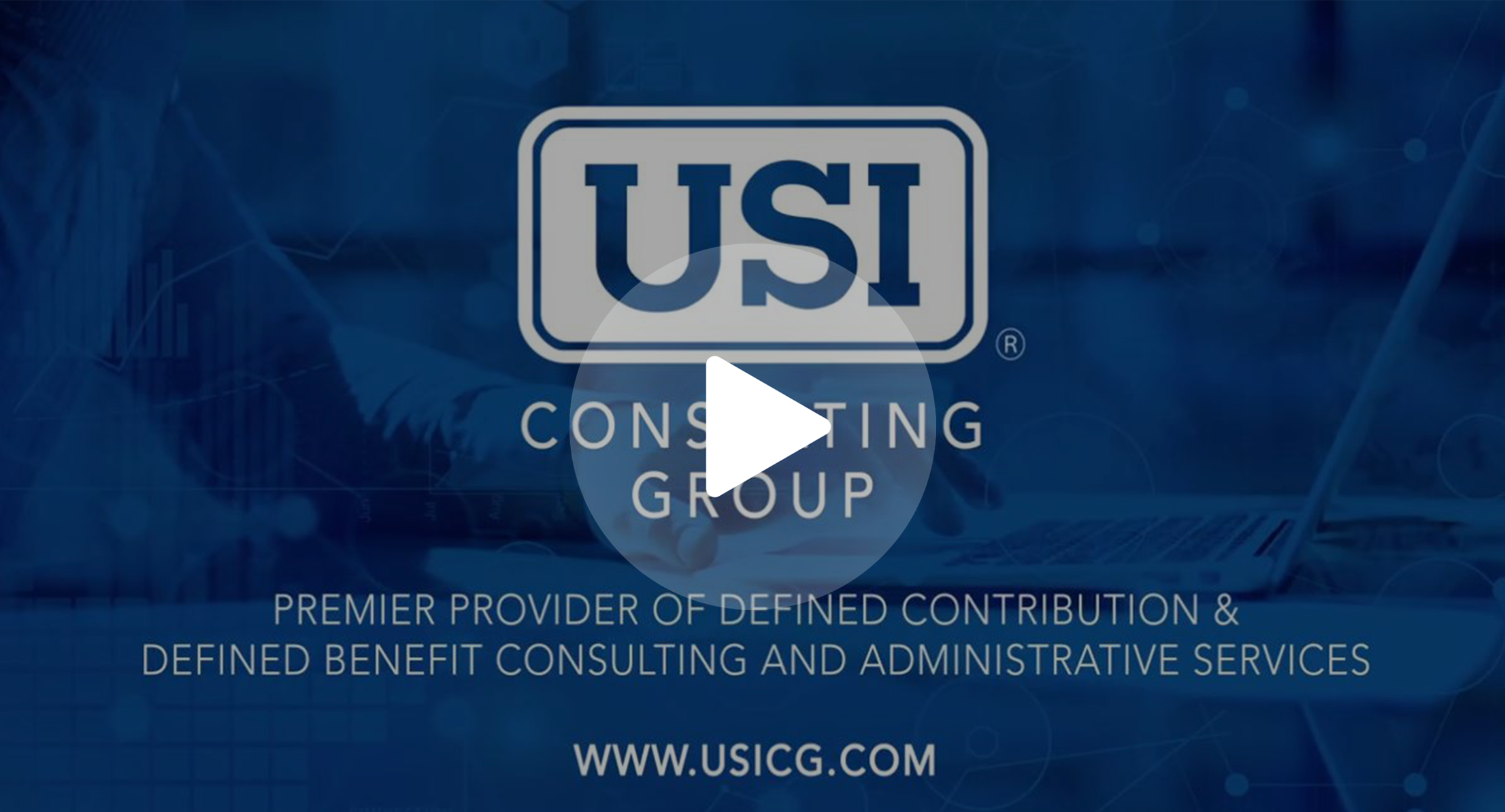 Expertise to simplify complex compliance issues and mitigate risk
Gain peace of mind knowing that your plan is being operated in compliance with applicable rules and regulations with USICG's Compliance team, including in-house ERISA attorneys, who are well positioned to provide your organization with expert guidance on new developments and ongoing requirements of pension plans. We bring years of experience in applying constantly changing, complex rules to important corporate benefit programs in a creative, business-oriented and practical manner.
We keep a close watch on legislative and regulatory changes, analyze the potential impact of these changes and assist employers to adjust their business planning and retirement plan decision making. In addition, we provide:
Annual compliance testing
Fiduciary consulting and training
Mergers and acquisition due diligence consulting
Plan documentation guidance
Plan operation oversight
How USI Consulting Group Can Help
USICG's experienced team of actuaries, annuity consultants and investment advisors will collaborate with you to develop a customized strategy that accomplishes your goals for mitigating and reducing pension plan risk. Our experts will make the process as predictable and smooth as possible. To learn more, please reach out to us at information@usicg.com.
* Actual results will vary. The use of any stated benefits in this case study is intended for illustrative purposes only and may not be used to predict or project future results.
Investment advice provided to the Plan by USI Advisors, Inc. Under certain arrangements, securities offered to the Plan through USI Securities, Inc. Member FINRA/SIPC. Both USI Advisors, Inc. and USI Securities, Inc. are affiliates of USI Consulting Group. | 1023.S0301.0019
Not receiving our Newsletter?
Stay up to date with retirement insights by subscribing to our email list.
Additional USICG Solutions