Missing Participants? Search Efforts Are a Fiduciary Duty
April 12, 2023
Finding missing retirement plan participants is an ongoing – and necessary – challenge for employers. Whether your organization offers a defined contribution or a defined benefit pension plan, you have a fiduciary duty to find missing participants.


A MISSING PARTICIPANT:

Former employee who has benefits in a qualified retirement plan at their former employer, but has failed to keep their contact information current and is no longer actively engaged in managing their plan account.

Reasons for missing participants include employer turnover/job change, relocation, death, company mergers/acquisitions and non-responsive participants.
The Pension Benefit Guaranty Corporation (PBGC) was the first federal agency to administer a program to hold retirement benefits for missing participants and beneficiaries in terminated retirement plans. The PBGC Missing Participants Program aims to help these participants and beneficiaries find and receive the benefits from terminated retirement plans. Under the SECURE 2.0 Act, a national searchable lost and found database will be created by the Department of Labor (DOL), enabling all former employees who may have lost track of their retirement benefits to search the contact information of their retirement plan administrator.
Follow updated guidance
The issue of missing participants has been a focus of the DOL for several years, and they have worked in conjunction with the Employee Benefits Security Administration (EBSA) to audit retirement plans and reinforce the actions that employers must take to locate lost participants and pay the benefits to which they are entitled.
The DOL and EBSA have issued detailed guidance regarding missing participants, including the steps employers should take to locate such participants:



Field Assistance Bulletin No. 2021-01: Authorizes plan fiduciaries of terminated defined contribution plans, such as 401(k) plans and 403(b) plans, to transfer account balances of missing or non-responsive participants to the PBGC Missing Participants Program.
Best practices to reduce missing participants
To mitigate the problem of missing participants, EBSA shared examples of best practices that have been proven to reduce instances of missing or non-responsive participants. These are a few of the agency's suggestions:
Maintain accurate census information for the plan's participant population. Reach out to participants, both current and retired, and beneficiaries periodically to confirm or update their contact information. Relevant contact information could include email, home and business addresses, telephone numbers (including cell phone), social media accounts and emergency contacts.
Implement effective communication strategies. State upfront and prominently what the communication is about – e.g., eligibility to start payment of pension benefits, a request for updated contact information, etc.
Conduct missing participant searches. Check with designated plan beneficiaries and the employee's emergency contacts (in the employer's records) for updated contact information.
Document procedures and actions. Document key decisions and the steps and actions taken to implement the policies.
Are your efforts to find missing retirement plan participants among the best practices recommended by EBSA and the DOL? Employers can leverage the aforementioned documents and guidance to establish an appropriate process for locating missing participants and remain compliant with requirements to maintain accurate records.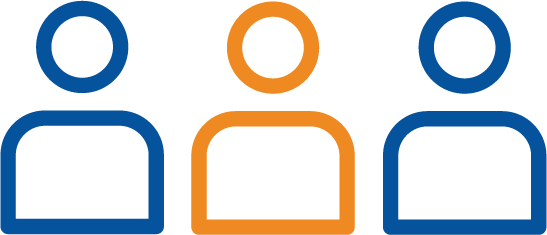 1/3 of survey participants (half of whom are Millennials) learned of a retirement savings account they didn't know they had with a previous employer.*
These searches make sense
Aside from the DOL and EBSA's focus, missing participants can cause administrative burdens, increased plan costs and fiduciary risk for the organization. Here are a number of practical reasons employers should address participant accounts:
There are large amounts of money at stake. Each year, hundreds of millions of dollars are recovered for terminated, vested participants in retirement plans.
Missing participants inhibit the ability to make timely required minimum distributions (RMDs), which may result in penalties to the employer and participant.
Missing participants inhibit the ability to distribute death benefits to beneficiaries. This is another important reason to maintain up-to-date beneficiary election data.
Missing participants may delay plan terminations, requiring another year of audit and governmental filings.
EBSA's FY22 report highlighted these enforcement actions between October 1, 2021, and September 30, 2022:

| | | |
| --- | --- | --- |
| 907 | 6,928 | $542M |
| civil investigations | terminated vested participants in DB plans | benefits collected that were owed to them |
Focus on follow-up actions
It's important to diligently monitor your retirement plan for missing participants. Service providers often can help identify accounts that may need special attention, so employers should establish proper procedures and designate an individual or team to ensure necessary follow-up efforts are taken.
Consider the following questions. Do you:
Have a formal procedure for identifying missing participants?
Conduct a full plan review for missing participants at least annually?
Review uncashed check reports from the trustee?
Conduct address searches for returned checks?
Document the steps that are taken annually to locate missing participants?
How USI Consulting Group Can Help
Learn more about implementing the best practices described in this article and how USI Consulting Group's (USICG) experienced team can help your organization leverage different search methods, reduce the number of missing participants and mitigate risk. Contact your USICG representative, visit our Contact Us page or reach out to us at information@usicg.com.
Not receiving our Newsletter?
Stay up to date with retirement insights by subscribing to our email list.